The Observations.net Weblog
The Heresy of Calvinism
Quotes from john calvin's Institutes of the Christian Religion: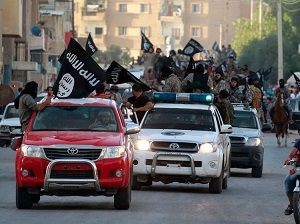 By his own words, john calvin expressed the belief that his god is the author of sin:
"Nor ought it to seem absurd when I say, that God not only foresaw the fall of the first man, and in him the ruin of his posterity; but also at his own [sexual?] pleasure arranged it." Book 3, Ch 3

"..it is very wicked merely to investigate the causes of God's will. for his will is, and rightly ought to be, the cause of all things that are." Book 3, Ch 23

"But since he foresees future events only by reason of the fact that he decreed that they take place, they vainly raise a quarrel over
...
(continued)
* posted by Robert on Sat 11/03/18
Prometheus and Satan
Both Prometheus and Satan were givers of knowledge. Prometheus stole fire and gave it to man. Prometheus, thereby, gave man all sorts of technological know-how. Satan talked Adam and Eve into eating from the Tree of the Knowledge of Good and Evil. Both Zeus and Jehovah were hacked off.
Prometheus is seen as a daring hero. His counterpart, Satan, is a destroyer.
So what is so dangerous about Prometheus/Satan? Has the knowledge this entity gave to man been good?
OK. My oldest grandfather was born in 1891. People still rode in horse-drawn buggies and lit kerosene lamps. World population was about 1.5 billion. People were probably doing some damage to the earth, but nothing irreparable as today.
So, how did man make the incredible leap in technology ...
(continued)
* posted by Robert on Tue 10/30/18
Jesus vs Paul vs James
Jesus issued direct calls to action.
A rich young guy came to Jesus and asked, "Good Master, what good thing shall I do, that I may have eternal life?" (Mat 19:16)
Jesus responded,
"If thou wilt be perfect, go and sell that thou hast, and give to the poor, and thou shalt have treasure in heaven: and come and follow me."
(Mat 18:21)
Jesus did not give the young man a theological formula. He left that to Paul, who would later write "For by grace are ye saved through faith; and that not of yourselves: it is the gift of God: Not of works, lest any man should boast." (Eph 2:8-9)
Does Paul's writing conflict with Jesus? No. Jesus did not teach a works salvation, in which your credits must exceed your debits, or ...
(continued)
* posted by Robert on Sat 10/27/18
My Nephew Died
On October 5, 2018, my nephew was killed in a car accident. It was not his fault.

I had not been that close to him since he was little, but he was a fine young man with a good heart. He did not deserve to die.

I am a Christian and I have beliefs about the meaning and purpose of this life. But I am still human. His death has left me shocked. I even briefly cursed Jesus.

This life sucks.

The great tribulation is coming. I say to God, "Let's get this thing on and get this miserable life over with."
* posted by Robert on Sat 10/20/18
The Destiny of the Soul
God is love. As such, God's default is to send the soul to heaven. Fundamentalists are so wrong, so very, very wrong. To them, God is harsh and angry, He is so holy that He is basically an obsessive/compulsive personality. There is an especially noxious brand of fundamentalists called calvinists. Some of these isis types believe that even babies go to hell because they inherited the guilt of so-called "original sin".
But God is nothing like that. He is love. He gives the soul every chance to go to Heaven. Only those who embrace evil and hate the good go to Hell, think ananius and caiphis, hitler, stalin, and mao, hitler clinton, and the like. They would ruin heaven if they were allowed in. They must be separated from the rest of us - that is hell.
Here ...
(continued)
* posted by Robert on Fri 10/19/18
Jesus Rejected Much of the Old Testament
Deuteronomy 7:6: For thou art an holy people unto the LORD thy God: the LORD thy God hath chosen thee to be a special people unto himself, above all people that are upon the face of the earth.
Jesus - Matthew 3:9:
And think not to say within yourselves, We have Abraham to our father: for I say unto you, that God is able of these stones to raise up children unto Abraham.
Jesus - Luke 4: 25-27:
But I tell you of a truth, many widows were in Israel in the days of Elijah, when the heaven was shut up three years and six months, when great famine was throughout all the land; But unto none of them was Elijah sent, save unto Sarepta, a city of Sidon, unto a woman that was a widow
[a so-called Gentile]
. And many lepers were in
...
(continued)
* posted by Robert on Sat 05/26/18
Pain: God's Megaphone to Rouse a Deaf World
Anthony Hopkins as the great C.S. Lewis in the movie Shadowlands:



"We can ignore even pleasure. But pain insists upon being attended to. God whispers to us in our pleasures, speaks in our conscience, but shouts in our pains: it is his megaphone to rouse a deaf world."

― C.S. Lewis, The Problem of Pain
* posted by Robert on Sun 02/04/18
Words from a Wise Martian
Once upon a time, TV was worth watching.
"There is no secret," says the Martian. "Live life for itself. Derive pleasure from the gift of pure being. Life is its own answer. Accept it and enjoy it day by day. Live as well as possible. Expect no more. Destroy nothing. Humble nothing. Look for fault in nothing... Hold that which lives in all reverence. For life is given by the Sovereign of our universe; given to be savored, to be luxuriated in, to be respected. But that's no secret..."
But one could object. Life isn't good for all. For some, life ends too soon, and they never get to live. For others, it is one hardship after another, brutality upon brutality, sadness upon ...
(continued)
* posted by Robert on Wed 08/16/17
What is Hell?
The Lord described hell as a place of darkness (Matthew 8:12). He also described hell as a place of fire (Mark 9:48). But fire gives off light. So it's obvious that fire and darkness are symbols.
God is not a psychopath. He does not throw lost souls into literal fire. Such a concept is utterly absurd. Fire is a symbol of God's anger against sin, cruelty, wickedness. Darkness is a symbol of rejection and aloneness.
So what is hell? First and foremost, hell was created for the devil and his angels (Matthew 25:41). It is an eternal prison, a place of separation from God and all that is good (2 Thessalonians 1:9).
For Jesus to make all things new, to make the universe what it should be, to make it a place where we can grow into everything that He meant for ...
(continued)
* posted by Robert on Wed 08/02/17
The Cross - the meeting point between God and man
The death of God upon the Cross was the most significant event in all history. The Apostle Peter wrote:
Who his own self bare our sins in his own body on the tree, that we, being dead to sins, should live unto righteousness: by whose stripes ye were healed. (1 Peter 2:24)
The New Testament addresses Christ taking all the sins of mankind upon Himself so that we might be saved. But most don't even begin to understand what all that entailed.
I have expressed on this website my belief that life is a school. We were created in the image of God, given freewill, and then placed in this harsh and brutal place to learn and grow. We learn from both our successes and failures. We learn firsthand why evil is wrong through the pain that it causes. And we learn ...
(continued)
* posted by Robert on Wed 07/26/17
Pages 1 2
Weblog software written by site author Robert
Are you willing to fight for Christian civilization?